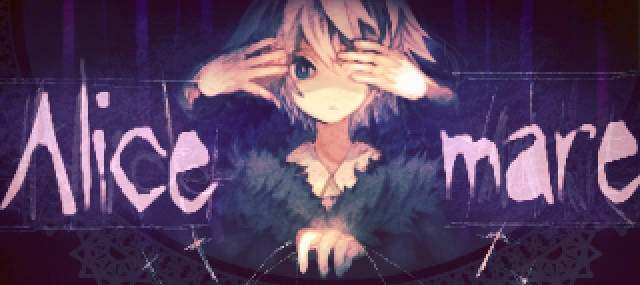 Alice Mare is a horror-esque RPG that takes the theme of fairy tales. You start out as a boy named Allen, whose world is put upside down when he follows a black cat into a closet.
Before continuing on further, as always, this will contain
spoilers
.
Though I much rather like mythology over fairy tales, this game is charming. It uses this world that Allen is thrown into as a way to explain each main human character's past.
It also has multiple endings, so you have the choice to
Spoiler:

die
with the characters or to go on with the story.
I personally did not become close with any character but the teacher. The teacher holds you dear as a big brother or a parent from the start. Every time you are put in danger, Teacher, or Dave, is there. He tells you each time to leave the world of Alice.
Along your adventures, you run into Cheshire Cat, a character that gives you riddles and threatens to kill you if you cannot complete them within a few tries. He's an odd character, as he talks to you calmly each time you're about to go save a friend.
The only other character you see each time you enter the world of Alice is White Rabbit. He is having Allen collect keys, more concerned about the said keys than the other alices.
White Rabbit is unlike Cheshire where he is expressionless at most times. The only emotions he seems to use are for Cheshire, who he is not fond of.
All in all, this has a fantastic storyline, riddles, and character. I would definitely recommend this.