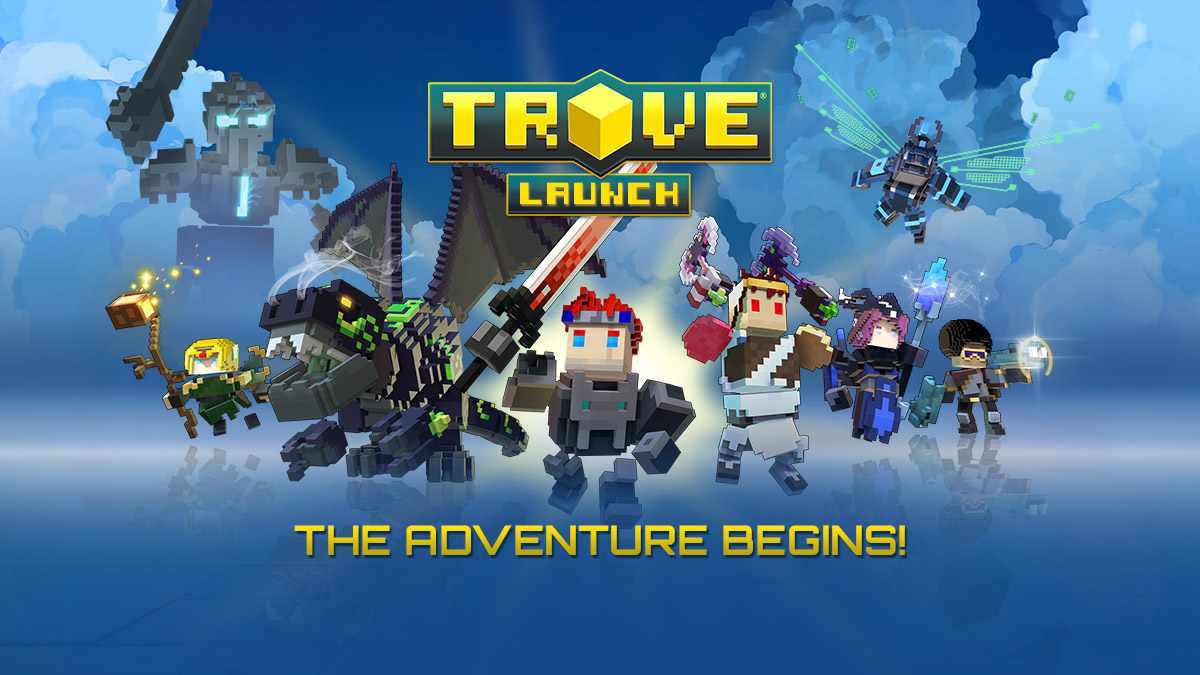 As you can see from my lobby, I have been fangirling over Trove. And, no, I am not new to Trove, Gold and I started playing Trove months ago.
What's Trove you ask?
(That's right, I can hear your thoughts.)
Trove is mostly comparable to minecraft, or for those familiar to the genre, a voxel RPG.
You join the game and if you haven't suffered through the new queue (which really, it's not as bad as people say), you appear into the Tutorial world. It gives you a 5 minute tutorial and then you join the Hub.
The Hub is practically the home world and is ideal for building your cornerstone. Your cornerstone is like your home. Unlike in minecraft, people
cannot
destroy anything on/in your cornerstone. The only con is you only have so much diameter. Other than that, you can build above the ground as high up as you want, or dig underneath your cornerstone for a basement, a dungeon, etc..
Is that not enough for you? Then, you're in luck! There are what Trove calls a club. You are required to join a club as a part of the tutorial. A club is basically a clan, which comes with a club world, where you can build whatever you want. As long as you have the materials, you can expand your club as much as you want.
Personally, Gold and I just use ours to fly around with our wings and to plant to compensate for all the room we don't have on our cornerstones.
"Wings,"
you gasp.
"They have wings?"
Yes, yes they do. Though, I hope you're patient. Getting wings takes a lot of playing, at least a few days worth if you have the time to play for that long.
Only con is they glide more than fly. You can't ascend up, you can only glide. But, using the wings correctly, you can glide for quite a while and enjoy the view as you fly from that high up dungeon you just finished.
Now, dungeons. Dungeons are such a big part of the game. Dungeons are how you fill up your daily cubits bar.
Cubits are the most valuable currency in-game. The only way you can earn cubits is by filling the daily cubits bar or earning badges. You can use cubits to buy other classes, better flasks (healing potions), mounts, and even wings.
Before going any further, I want to address what someone said about Trove in a steam review.
You can experience everything in Trove within a few hours.
This is not at all true. You are missing out on so much. You are missing out on the hundreds of recipes, the dozens of mounts, allies, hundreds of styles of hats, faces, weapons. You are missing out on the unique-ness of each class. Within a few hours, you would not receive wings, or the rare mounts, or the higher uber worlds with shadow arenas. You would certainly not get to use a sky realm, unless your club had one (which is pointless without wings).
Best of all about this game, it is not pay to win. The only thing you can buy with real money that you can't pay with in-game money is patron status. You can experience everything without paying a penny. And, let me tell you, it is worth it.
Is it worth it?:
Yes.
Last edited by crystalxluke on Wed Jul 29, 2015 7:17 pm; edited 2 times in total